Vapor Intrusion Mitigation Case Studies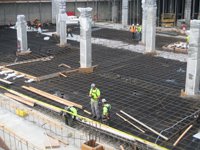 500 5TH AVENUE
Seattle, WA
The owner of this new mixed-use 38-story condominium needed below-grade space that was dry and watertight. Because the foundation wall construction was shotcrete installed in a property-line method, CETCO's waterproofing was the perfect solution.
ALAMITOS RIDGE
Signal Hill, CA
The site of Aubry at Alamitos Ridge single-family housing development by Lennar Homes is also the site of multiple active oil derricks. To solve the problem LIQUID BOOT® membrane was installed under dozens of single family homes with great success.
BUFFALO WILD WINGS
Metairie, LA
The location of a new, two-story Buffalo Wild Wings restaurant was adjacent to a former dry cleaner site. The primary concerns were chlorinated compounds and benzene.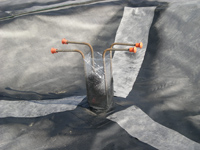 CANADA POST
Toronto, ON, Canada
The site for the new Canada Post headquarters was situated on a former industrial location and is a major redevelopment zone for the city of Toronto. The site was contaminated by methane as well as located on bayfill.
CHICK-A-FIL-A
Fort Worth, Texas
The owner of the former manufacturing site and the engineer understood the value of having a barrier with superior vapor resistance and a long standing track record to protect the indoor air quality of the restaurant.
EL CENTRO REGIONAL MEDICAL CENTER
El Centro, CA
Prior land use was for "El Centro Motors", an automobile dealership and service facility. There was some contamination in the soil & groundwater due to underground storage tanks.
FILM PROCESSING FACILITY
Hollywood, California
VOC contamination was detected in the sub slab for a project situated on a site that was once a former film processing facility.
下载完整案例分析
FRATERNITY MEADOWS DEVELOPMENT
Secaucus, New Jersey
The Fraternity Meadows development is a specialized community project situated on a former landfill with detectable levels of methane gas in the soil. This project is home to a new mutli-family housing structure.
HAMLET MIDDLE SCHOOL
Woonsocket, Rhode Island
The soil conditions for the site of two 60,000 square foot school buildings in Woonsocket, RI was complicated by contamination from TCE, PCE and petroleum-based soil gas vapors.
HOLLYWOOD CASINO
Columbus, Ohio, U.S.A
A $400 million redevelopment project that will be the site for a new gaming casino was formerly an automotive factory. The primary contaminants of concern on this 123 acre brownfield site Primary concern were residual chlorinated compounds from former cleaning and manufacturing activity.
LOWES STORE
Ithacam NY, Ocean Township, NJ, Patterson, NJ
With more than 60 years of experience, CETCO is an industry leader in Gas Vapor Mitigation technologies and solutions.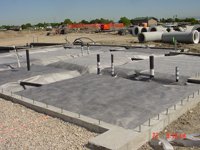 MEADOWS AT RIVER WALK
Midvale, Utah
The location - multi-family housing building, was a former Superfund site PCE, metals and arsenic contamination in the soil.
MOTT HAVEN SCHOOL
Bronx, NY
The Mott Haven School Campus was to be built on a former manufacturing site with residualcontaminants in the soil.
PALLISADES
Yorba Linda, CA
The Palisades at Vista del Verde is a multi-family housing development that is situated on a site that once was home to numerous oil wells. The oil wells have since been removed and capped, however detectable levels of methane gas are present in the soil.
PANAM VILLAGE
Toronto, ON, Canada
The site for the Pan Am Athletes Village, a mixed-use redevelopment, is situated on an abandoned piece of property known as West Don Lands. Most of the land was industrial or owned by the railways, and it became the site of an array of factories and warehouses, including one of the largest pork processing facilities in the world.
RED BULL ARENA
Harrison, NJ
A sports team chose an idle brownfield location in Harrison, NJ as the home for their new stadium. To mitigate potential vapor intrusion concerns, Louis Berger Group specified the LIQUID BOOT® gas vapor barrier system and GEOVENT™ sub slab depressurization system as a part of their overall remedial design.
RITE AIDE
Prospect Park, PA
Situated on a former gas station site, elevated levels of petroleum hydrocarbons were detected in the soil. The area was a prime location for the retail facility and solutions to mitigate the contamination were actively sought.
SIENNA PLACE HOMES
Philadelphia, PA
A prominant residential developer had selected an idle Brownfield for the site of a large multi-family residential development.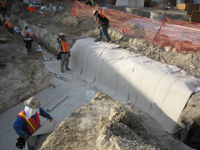 SMITH PERFORMING ARTS CENTER
内华达州拉斯维加斯
Smith Performing Arts Center needed to protect the 125,000 sq. ft. structure from residual VOC contamination in the soil. Portions of the project are situated in the water table, therefore, protection from water migration was also required.
SPRING HILL SUITES HOTEL
Ridley, PA
The site of the Springhill Suites Hotel and Restaurant posed potential vapor intrusion concerns due to low-level VOC contaminants found in the soil.
TORONTO FIRE SERVICES
Toronto, Ontario, Canada
Vapor intrusion has become a significant environmental issue for regulators, industry leaders, and concerned residents nationwide. The use of a spray-applied gas vapor barrier to protect against the threat of vapor intrusion has become a widely recognized application by numerous local and state regulatory and guidance groups. These groups also recommend that a gas venting system be used in conjunction with the gas vapor barrier for optimum mitigation of gas vapor.